06 June 2012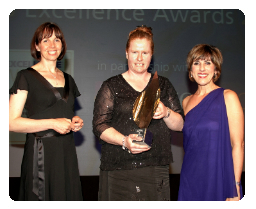 Healthyliving award holder Entiér and its team at Robert Gordon's College in Aberdeen are celebrating after receiving the Healthier Scotland award at the Catering in Scotland Excellence Awards, presented at a prestigious awards ceremony in Glasgow on 24th May.

The Healthier Scotland award is a tremendous success for Entiér and acknowledges their commitment and dedication to providing and supporting healthy eating at Robert Gordon's College. Jo Watson, Entiér's unit manager at the school, has worked tirelessly to improve the choice and variety of food available, allowing the pupils to make healthier choices while still enjoying the food they love.

Entiér provides meals to the school including breakfast club, lunch, snacks and after-school club, serving 900 pupils per day. They were awarded the healthyliving award in May 2009, the Eat Safe award in 2010 and the healthyliving award plus in 2011. Jo and her team also take part in healthy eating talks with the children and actively involve them in the food choices available, as well as working closely with the pupil council.

The CIS Excellence Awards recognise the cream of Scotland's talent, from individuals to organisations and companies of all sizes involved in the catering, hospitality and tourism industries across the country. The Healthier Scotland category was sponsored by the healthyliving award and Healthier Scotland.

Managing Director of Entiér, Peter Bruce, commented: "We are delighted to have won this prestigious award; to be recognised as a leader of healthy eating amongst our catering peers and within our profession is a great accolade. Thanks must go to Jo Watson and her team for their hard work and effort and to the children at Robert Gordon's for their contribution to providing a healthy future for themselves".

Pictured are Jo Watson of Entiér (centre) with Shereen Nanjiani (right) who presented the award, and Claire Brown (left) who announced the winner.