60-second
microbites

Sodexo at OKI

OKI at Cumbernauld is one of our longest continuous healthyliving award holders, having been part of the initial pilot process in early 2006. Anna Collins, Sodexo unit manager for OKI, feeds around 150 people each day for breakfast and lunch service.
Q. What were your main reasons for staying with the award?


A. We feel it is important to offer the customer a balanced and healthy alternative choice.


Q. Do you feel that achieving the award has been worthwhile?


A. For some customers, lunch is the main meal of their day and they appreciate the variety of healthy dishes we offer. We have received some amazing feedback which has really helped to boost our staff.


Q. What do you think achieving the healthyliving award means to your customers?


A. The award shows our customers that we are committed to offering and promoting healthier eating through our menus.




Q. Any other information or promotions that you wish to tell us about?


A. We deliver a range of seasonal healthy options in our site such as undressed salads, fresh fruit and low-fat ingredients, and always use healthier cooking methods.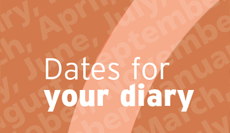 National Asparagus Month
Create some healthy and seasonal asparagus recipes.
www.britishasparagus.com
May 2018

National Vegetarian Week
Go to the website to order free resources to support your event.
www.nationalvegetarianweek.org
14–20 May

British Sandwich Week
www.britishsandwichweek.com
20–26 May

British Nutrition Foundation healthy eating week
www.foodafactoflife.org.uk
11–15 June

Summer of sport
Celebrate this summer's sporting events, such as Wimbledon, the European Championships and the World Cup, by creating exciting, healthy themed menus.

Some of these events could be used to highlight healthier eating messages and therefore count as one of your annual promotional events