Sowing the seeds
Bon Accord Care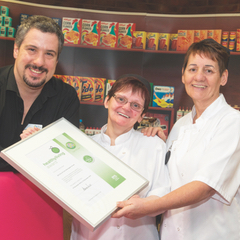 Bon Accord Care is a provider of adult social care services across Aberdeen. It offers a broad range of services, which predominantly focus on older people.
Bon Accord Care has been successful in achieving awards across six homes and sheltered housing. Jorge Espinola, catering supervisor, has been responsible for coordinating the achievement of the awards. Jorge explained that he had achieved the healthyliving award in a previous role in another company and recognised the benefits that the award could bring to the service users and company as a whole. The company is committed to delivering a five-star service and improving the health and wellbeing of every resident, and the award complements this aim.
Achieving the award was not without its challenges and Jorge revealed that the biggest challenge was overcoming the 'care home culture' perception that healthier food is not substantial enough for older people's needs. Jorge drove a change of mentality by introducing training and raising awareness of the benefits of a healthy, nutritionally balanced diet. Staff training is ongoing and has supported changes in cooking practices, which Jorge feels has led to the catering staff being more informed and inspired.
Jorge was quick to say that they could not have achieved the award without 'buy in' from the team. He highlighted the 'exceptional team work that went on behind the scenes to achieve the awards', and said 'this team approach can make a positive impact on people's everyday lives'. He added that they have introduced changes to cooking practices, with a particular focus on reducing the salt, fat and sugar content. Every day the catering teams now work with the conditions of the award in mind.
Jorge explained that 'residents now have access to more healthy options to support their quality of life. This increased choice enables the residents to eat dishes they might not previously have tried, introduces new ideas to challenge their food knowledge and opens doors for their senses'.
Overall, the feedback from residents has been positive. It is felt that the simple changes have made a big difference to their health and wellbeing without impacting on the service users' routines, preferences and tastes.
Jorge explained that the award has provided value in differentiating them from other organisations within the health and social care sector. It also provides recognition for best practice and ensuring the ability for residents to choose healthier food.
Bon Accord Care holds awards at the following establishments:
Denmore Court; Balnagask House; Rosewell House; Fergus House; Craigielea Gardens; Victoria Grange.