Welcome to the autumn edition of coretalk…
It has been a busy summer for the healthyliving award team, with caterers across the country backing the award in ever-increasing numbers. With more than 600 businesses now registered and more than 140 eateries now holding the award it is becoming easier for people to eat more healthily when out and about in Scotland.
Find out what successful businesses have said about the award in the Table Talk section of this edition of coretalk. If you haven't yet signed up, why not give us a call or log onto our website to find out more and play your part? Alternatively, if you know of a healthy place to eat, why not encourage them to sign up?
In our First Class Honours For Student Catering article, you can read what steps are being taken to provide healthier food in colleges and universities.
Before we forget about summer completely, why not try our delicious tropical recipe, and use it as a reminder of warmer times as the temperatures drop? If you have a healthy recipe you would like to share with us, then drop us a line. We're always pleased to hear from you.
What's cooking?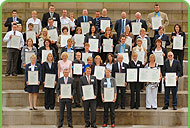 Award winners at Our Dynamic Earth in Edinburgh.
Improving the health of a nation
A massive 91 establishments collected their healthyliving awards at ceremonies held in August and September. The events, held at The National Piping Centre in Glasgow and Our Dynamic Earth in Edinburgh saw the healthyliving award team recognise a diverse range of businesses for their achievements.
The most recent award-holders range from a children's play area through to large workplace canteens that serve thousands of people every day. Getting as wide a variety of eateries involved as possible is a vital part of the drive to spread the healthy eating message across the country.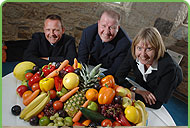 Sodexho representatives from the Scottish Government sites.
The healthyliving award team were joined by some of our partners and stakeholders at both events. George McIvor, founder of The Full Range Ltd and chairman of The Master Chefs of Great Britain, presented award winners with their certificates at the Glasgow ceremony. In Edinburgh, Wendy Barrie, well-known food consultant and Director of The Scottish Food Guide, carried out the honours and even treated the guests to an impromptu song!
Guest speakers from the Scottish Government's Public Health and Wellbeing Directorate attended both events and stressed the important role that caterers who achieve the healthyliving award are playing in the wider government strategy to improve the health of the people of Scotland. They noted that this is especially vital now that spending on eating out has overtaken spending on meals at home.
Caterers are doing their bit in the following ways:
Using the well-known green apple brand to actively promote healthier options and meet the growing demand for healthier foods.
Finding ways to prepare and provide nutritionally balanced meals by using less salt, sugar and fat.
Ensuring that at least half the menu choices are healthy

living

choices, to help provide better access to healthier foods.
It was also highlighted that with the change in Scottish Government, we now enter a new phase for food and health policy for Scotland. The new administration has clear manifesto commitments including:
"Making healthy choices more accessible"
"Seeking clearer labelling of foods with a health benefit"
"Working constructively with retailers and food producers to increase the availability of fresh, nutritious food".
All of these pledges are already integral to the principles of the healthyliving award. In fact, ministers are now able to sample the award for themselves as four Scottish Government sites operated by Sodexho received their healthyliving award at the recent Edinburgh event.
The award ceremonies once more highlighted the fact there is growing recognition throughout Scotland that our food culture needs to be changed. By raising awareness of the importance of healthy eating, making simple but effective changes to the way food is prepared and cooked and giving consumers choices the healthyliving award-holders are supporting this change.

issue four: October 2007