Welcome to the second edition of coretalk.
Since its launch in August last year, interest in the
healthyliving award has grown, with caterers across Scotland keen to get behind this national award.
coretalk allows us to share our news and we are always keen to hear your views. You can also read more about the award and those who have successfully attained it at www.healthylivingaward.co.uk.
What's cooking?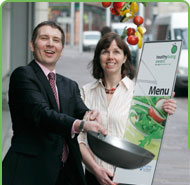 Mark Forrett of Compass at Royal Bank of Scotland and Claire Brown, Project Manager
Award winners too Scothot to handle!
Thirty businesses from across Scotland received the healthyliving award at a recent ceremony held during a major food service sector exhibition.
February saw Glasgow play host to Scothot, the largest exhibition for the food service sector in Scotland. The healthyliving award team took the opportunity to promote the sign of healthier food to visitors and recognise the achievement of award holders.
The healthyliving award stand proved a popular attraction amongst caterers, suppliers and other visitors, demonstrating that interest in healthier eating continues to grow.
The event gave the award team the opportunity to meet with businesses that have already registered for the award. This enabled them to put faces to names, and to encourage new businesses to come on board.
Scothot also gave the opportunity to celebrate the success of establishments that have successfully achieved awards over recent months, with 30 businesses receiving their awards at a ceremony held during the show.
Kevin MacGillivray, Director of Eat Scotland, presented awards to the successful applicants that came from right across Scotland and represented a wide variety of business-types, including workplace restaurants, cafés and sandwich shops.
Compass at the Royal Bank of Scotland scooped up a total of 10 awards for their efforts in implementing healthyliving standards in all of their catered sites across Scotland, giving more than 12,000 staff the opportunity to eat healthily every day.
If you missed the healthyliving team at Scothot, be sure to catch us at one of the many events that we will be attending over the coming months, including the Taste of Grampian Food Festival in June.
Claire Brown, Project Manager

issue two:
May 2007