Welcome to the summer edition of Coretalk
This issue, with summer in full swing, read how one of our award holders made it easier for the hungry crowds at T in the Park to eat healthily.
And with high hopes for some good weather still to come, why not try out our delicious barbecue recipe for an inspiring summer salad.
For caterers looking for a further challenge, the new healthyliving awardplus is now available, or maybe you would like to go for the Soil Association's new Food for Life Catering Mark, which you can read about here.
Although it's holiday time, we're still as busy as ever, and in this issue you can meet the team and find out who does what.
Have a great summer!
What's cooking?
Caterers rise to a fresh challenge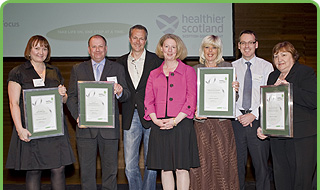 healthyliving award plus winners with Nick Nairn and Shona Robison MSP
The healthyliving award plus was unveiled by Minister for Public Health and Sport Shona Robison MSP at the healthyliving award ceremony at Perth Concert Hall in May.
Praising the introduction of the new higher level of award, she said, "Through the healthyliving award, many of Scotland's food and drink outlets have shown a clear commitment to offer healthy options - low in sugar, fat and salt - on shelves and menus.
"Following on from this success, I believe the healthyliving awardplus will help encourage these outlets to go further and introduce an even greater array of healthier choices."
The healthyliving awardplus is only available to food outlets which have demonstrated a clear commitment to healthier eating by holding the original healthyliving award for a full term of two years.
The new award has already been achieved by four food outlets which participated in a three-month pilot programme prior to the official launch. The award holders are:
Café Derran at the Auchterderran Centre, Cardenden
Ailsa Courtyard Restaurant at Ailsa Hospital, Ayr
Almond Catering at Registers of Scotland, Edinburgh
Compass Group at Royal Bank of Scotland, Fettes Row, Edinburgh
As well as these very special new awards, the day saw over 200 caterers from across Scotland receive their healthyliving award certificates from well-known chef and TV presenter Nick Nairn.
Nick spoke in praise of the healthyliving award and answered questions from the knowledgeable audience of caterers and guests, before presenting the awards.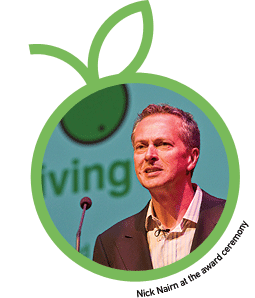 On a separate note, earlier this year an independent evaluation of the healthyliving award was carried out, with a number of caterers, customers, stakeholders and assessors taking part in the research.
The evaluation had a very positive outcome, concluding that there is wide recognition of the value of the award and its effectiveness to date. It is beginning to have a positive impact on the way in which food is prepared, while increasing the availability of healthy food options for the consumer.
The evidence from this research has provided a good basis on which to build, as we seek to increase the reach and effectiveness of the award through strong promotion of its aims and values.

issue eleven:
August 2009