Nibbles
Thanks for your feedback
Many thanks to everyone who responded to the survey sent out with the last issue of coretalk. Most of the feedback was positive, and it seems you don't want to see big changes to either the design or the content of coretalk.
Several ideas were suggested for different types of articles, and we will be including these where possible over the next few issues. Lots of you would like to see more healthyliving recipes.
We are always on the lookout for new recipes, so please send in any that you would like to share to coretalk@healthylivingaward.co.uk.
News bites
How about some continuing professional development for 2011?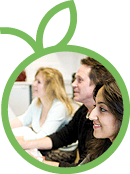 If you want to learn more about food, nutrition and health, you could gain a nationally recognised qualification by choosing from a variety of training courses.
Royal Environmental Health Institute of Scotland (REHIS) www.rehis.com :
Elementary Food and Health: This short course covers up-to-date information on basic nutrition and the relationship between food and health. No previous knowledge of nutrition is required.
REHIS is currently piloting a new course for carers of adults with a learning disability, based on the Elementary Food and Health course above. Details will be available later this year.
Royal Society for Public Health www.rsph.org.uk :
Certificate in Nutrition and Health: This intermediate course covers the latest developments in healthy eating, details of current recommendations and how to interpret these and put them into practice.
Diploma in Nutrition and Health: The Diploma course builds on knowledge gained in the Certificate course, providing more in-depth information. This is considered by REHIS as the baseline qualification for anyone wishing to teach the Elementary course (see above).
The Nutrition Company is one training centre that is approved to deliver the above courses throughout the UK. For further information and booking forms, visit their website at www.nutritiontraining.co.uk or contact the Nutrition Training Company on 0141 357 2705.
Details of other training providers can be found at the REHIS and RSPH websites above.
Table talk
Team spirit pays off for Avenance at Chivas Brothers
The Avenance team at Chivas Brothers' Paisley South Hall canteen is one of the latest to gain the healthyliving award plus.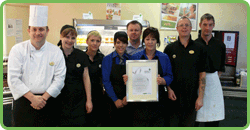 Barry McClafferty, Canteen Manager, said: "Achieving the standard award initially was the most difficult thing, because it was a complete change for us. Going for the plus award was easier, as the staff were more aware of things like checking labels for salt, fat and sugar.
"I'd say the most important thing is motivating your team and getting their buy-in, because it's all about teamwork."
Barry and the team (pictured) will now pursue plus status for the canteens at their other Chivas Brothers' sites.

issue seventeen:
February 2011